From our picturesque setting just 20 minutes north of the Twin Cities to our renowned amenities and impeccable service, Tanners Brook Golf Club offers an unequaled locale for extraordinary weddings and superlative special events. Let our friendly, experienced wedding specialist create a one-of-a-kind wedding that complements your personal style, fits within your budget, and leaves you and your guests with memories to last a lifetime.  For more information regarding our Banquet Room facility, please contact Andrea Brischke – Food & Beverage Manager at (651) 464-2300 or email at andreabrischke@tannersbrook.com.
Banquet Policies
Food & Beverages:  All food must be prepared and served by a licensed full service caterer.  There is no Food & Beverage minimum here at Tanners Brook.  Tanners Brook banquet will provide a fully stocked bar and bartenders for your event. The bar fee is included in your rental price. The bar fee includes 2 bartenders and an on-site event coordinator. We require that all beverages, intoxicating and non-intoxicating, be supplied by and purchased through Tanners Brook Golf Course. Any outside beverages that are brought in will be taken by Tanners Brook staff. Anyone found consuming alcohol NOT purchased from the club will jeopardize the function with the possibility of a cancellation or shutdown immediately. This includes during the setup of your Reception. There is alcohol available upon setup if desired for purchase. We reserve the right to refuse service to any guest who appears to be intoxicated or provides alcohol to guests who are under the legal age. Alcohol consumption must end at 12:00AM. 
Decorations:  Renters will provide their own centerpieces. Tanners Brook does not permit nails, staples, tacks, etc. to be used on the banquet rooms walls and tables. NO Rice, Bird Seed, Confetti, Small Jewels or Glitter are allowed inside the building or on the grounds. There will be a charge of $250.00 for cleaning should those items be brought in without knowledge. Please confirm all decorating plans with Tanners Brook prior to event. Candle flames must be contained within a container. 
Time Frame:  Each event will have a time frame set on the contract. Bar service & entertainment must end at 12:00 a.m. with guests vacating the facility by 1:00 a.m.
Liability & Damages:  Tanners Brook shall not assume responsibility for the loss of any personal items at our facility during your event. This includes cards and gifts for which the event host is responsible for. The event host will also be responsible for any damage to the property during the event.
Deposit:  Deposits are required to confirm the room reservation on the date of your event and is applied to the final balance of your invoice. The deposit is non-refundable should you cancel your event for any reason.
Service Charge & Tax:  All beverage prices are subject to a 18% service charge. All beverages are subject to 7.125% sales tax and there is an additional 2.5% tax on liquor making the total tax on liquor 9.375%.
Payment:  Final payment will be required by 5:00 PM the day of your event.
| | |
| --- | --- |
| Greens Fees | Price |
| Weekday Special - 18 Holes w/Cart (Monday-Friday 6AM-3PM) | $44 |
| Weekday Walking Special (Valid 6AM-5PM) | $30 |
| Weekend & Holiday Special - 18 Holes w/Cart (Open-11AM) | $52 |
| Weekend & Holiday Special - 18 Holes w/Cart (11AM-1PM) | $45 |
| Weekend & Holiday Special - 18 Holes w/Cart (1PM-5PM) | $40 |
| Weekend & Holiday Special - 18 Holes Walking (Open-1PM) | $33 |
| Weekend & Holiday Special - 18 Holes Walking (1PM-5PM) | $25 |
| Senior Special 18 Holes w/Cart (50 Years & Older - Mon-Fri 6AM-3PM) | $38 |
| Senior Special Walking (50 Years & Older - Mon-Fri 6AM-3PM) | $25 |
| 9 Hole Senior Walking ((50 Years & Older - Mon-Fri 6AM-3PM) | $14 |
| | |
| 18 Greens Fees (Monday-Sunday 6AM-4PM) | $44 |
| Nine Hole Weekday | $19 |
| Nine Hole Weekend | $21 |
| Twilight (After 5PM) | $22 |
| Evening (After 6:15PM) | $15 |
| Student 18 Hole (Mon-Fri Anytime, Weekends & Holidays after 11AM) | $20 |
| Student 9 Hole (Mon-Fri Anytime, Weekends & Holidays after 11AM) | $12 |
| | |
| Golf Carts & Rentals | |
| 18 Hole Cart (per person) | $19 |
| 9 Hole Cart (per person) | $11 |
| 18 Hole Pull Cart | $5 |
| Club Rental | $15 |
| Season Cart Permit | $690+ Tax |
| **Anyone requesting their own cart will be an additional fee  | |
| | |
| Range | |
| Small Bucket of Range Balls | $6 |
| Large Bucket of Range Balls | $9 |
| Season Range Pass | $300+Tax |
General Information
 *Student fees valid for those 17 years old and younger. Not Valid before 11:00 AM on Weekends.
*Please Note: A second rider will be required to pay a single rider fee. Two single riders must pair up when requested to do so. The cart must be returned at the Staff's request.
Senior Rate good Monday – Friday ONLY Before 3:00 PM.  Not valid for Tournaments, Holidays Or League Play.
Groups of 2 or 3 are subject to having additional players added to their groups.  You should not count on being able to play alone in groups of 1-3 players.  Should you wish to experience a more exclusive experience, we offer the opportunity for guests to buy their entire tee time out.  Please contact Craig at 651-464-2300 if this is something you would like to do.
Reservations can be made 14 days in advance.  Notice of cancellation must be made within 24 hours of tee time.
All players must have their own set of clubs
Personal carry-on coolers are prohibited by law.  All refreshments must be purchased from Tanners Brook.
NO outside Food or Beverages permitted.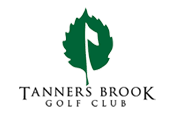 Tanners Brook Golf Course
5810 North 190th Street
Forest Lake, MN 55025