Frequently Asked Questions
Customer Service
Who is the event coordinator and what are her normal office hours?
Our event coordinator is Andrea Brischke. Andrea knows our entire operation from top to bottom, having worked at Tanners Brook in a variety of roles since 2005. Depending on the event schedule in a given week, her normal office hours are Monday-Friday 9:30AM-5PM. She is also available by appointment at your convenience nights and weekends.
Will Tanners Brook help me plan my event?
We will do everything we can to help make sure your event goes off exactly how you envision it. Andrea will be happy to assist you in determining your menu, event timetable, floor plan, vendor choices, and more.
Your Event
When can I get in to set up?
The banquet room is yours from 8AM the day of your event until 1:00 AM. If Tanners Brook does not have an event the day before you may be able to set up a day earlier. Andrea will make that determination closer to your event date.
What is included for my event?
Standard room set-up and take down, flexible layout of your choosing, large on-site parking area, proficient and hospitable staff, experienced bartenders, sixty-inch round tables seating 8 people, linen tablecloths and napkins in your choice of colors and the opportunity to take pictures on our beautiful golf course.
What is the capacity at Tanners Brook?
Tanners Brook can hold 180 people in the banquet room.
Can I rent the space and bring my own food or beverages?
We have preferred caterers here at Tanners Brook; however, you may bring in a licensed caterer of your choice as long as you contact Andrea prior to signing the catering contract to ensure all event details are reviewed.  All alcohol must be supplied by Tanners Brook Golf Club, as licensee in accordance with Minnesota State Liquor Regulations.
What if I have unique ideas for my event?
By all means, we encourage our guests to come up with innovative ways to set their events apart. Please feel free to ask us if your ideas are feasible, or if we can think of any alternatives or other interesting ideas we have seen in the past.
Fees and Charges
What deposits are required to hold a date?
For weddings we require a non-refundable deposit of $400 to hold the date. This will be applied toward your final bill the night of the event.
I need to cancel my event; can I get my deposit back?
Because of the nature of the event business, and the fact that the vast majority of events need to be booked well in advance and require a lot of work prior to the event, all deposits are non-refundable.
Do you have food and beverage minimums?
Here at Tanners Brook we do not have food & beverage minimums.
| | |
| --- | --- |
| Greens Fees | Price |
| Weekday Special - 18 Holes w/Cart (Monday-Friday 6AM-3PM) | $44 |
| Weekday Walking Special (Valid 6AM-5PM) | $30 |
| Weekend & Holiday Special - 18 Holes w/Cart (Open-11AM) | $52 |
| Weekend & Holiday Special - 18 Holes w/Cart (11AM-1PM) | $45 |
| Weekend & Holiday Special - 18 Holes w/Cart (1PM-5PM) | $40 |
| Weekend & Holiday Special - 18 Holes Walking (Open-1PM) | $33 |
| Weekend & Holiday Special - 18 Holes Walking (1PM-5PM) | $25 |
| Senior Special 18 Holes w/Cart (50 Years & Older - Mon-Fri 6AM-3PM) | $38 |
| Senior Special Walking (50 Years & Older - Mon-Fri 6AM-3PM) | $25 |
| 9 Hole Senior Walking ((50 Years & Older - Mon-Fri 6AM-3PM) | $14 |
| | |
| 18 Greens Fees (Monday-Sunday 6AM-4PM) | $44 |
| Nine Hole Weekday | $19 |
| Nine Hole Weekend | $21 |
| Twilight (After 5PM) | $22 |
| Evening (After 6:15PM) | $15 |
| Student 18 Hole (Mon-Fri Anytime, Weekends & Holidays after 11AM) | $20 |
| Student 9 Hole (Mon-Fri Anytime, Weekends & Holidays after 11AM) | $12 |
| | |
| Golf Carts & Rentals | |
| 18 Hole Cart (per person) | $19 |
| 9 Hole Cart (per person) | $11 |
| 18 Hole Pull Cart | $5 |
| Club Rental | $15 |
| Season Cart Permit | $690+ Tax |
| **Anyone requesting their own cart will be an additional fee  | |
| | |
| Range | |
| Small Bucket of Range Balls | $6 |
| Large Bucket of Range Balls | $9 |
| Season Range Pass | $300+Tax |
General Information
 *Student fees valid for those 17 years old and younger. Not Valid before 11:00 AM on Weekends.
*Please Note: A second rider will be required to pay a single rider fee. Two single riders must pair up when requested to do so. The cart must be returned at the Staff's request.
Senior Rate good Monday – Friday ONLY Before 3:00 PM.  Not valid for Tournaments, Holidays Or League Play.
Groups of 2 or 3 are subject to having additional players added to their groups.  You should not count on being able to play alone in groups of 1-3 players.  Should you wish to experience a more exclusive experience, we offer the opportunity for guests to buy their entire tee time out.  Please contact Craig at 651-464-2300 if this is something you would like to do.
Reservations can be made 14 days in advance.  Notice of cancellation must be made within 24 hours of tee time.
All players must have their own set of clubs
Personal carry-on coolers are prohibited by law.  All refreshments must be purchased from Tanners Brook.
NO outside Food or Beverages permitted.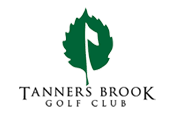 Tanners Brook Golf Course
5810 North 190th Street
Forest Lake, MN 55025